Posted 10/7/2022
Back in May I attended a stoneware glazing course and loved it!
I was so excited to bring stoneware back to Ladybird and start running workshops straight away. The first couple of people signed up and we got painting. The second firing of stoneware is very different to earthenware (the pottery we sell normally in the shop is earthenware). Stoneware is fired to a much higher temperature so I was rather nervous about the first firing. I've seen photos of the disasters that can happen when the kiln isn't programmed properly. For
example earthenware fired to stoneware temperatures can completely melt, turning the kiln shelf into a fantastic piece of abstract art, but no use as a shelf any more.
With the first stoneware firing complete I couldn't wait to open the kiln, unfortunately it
didn't go as smoothly as I'd hoped.
Although I made sure all the bottoms were wiped clean
of glaze, most of the pottery still stuck to the shelves. I'm seeking advise so to avoid next
time, but I wonder if its because I mostly use earthenware glaze and there could have been dust from this left on the shelves?
Anyway the mugs and bowls were mostly ok and i was able to clean the foot of the pottery to a smooth finish, so they are still usable. The kiln shelves also came up well, but they are due a Batt Wash....
The last photo is how the shelves cleaned up this afternoon, I'm happy they got this clean, as I only had a hand tool to clean them. The shelves
have to be covered with a mixture called Batt Wash. Traditional batt wash comes in a powder, you mix it to the desired consistency, then paint 3 coats on each shelf. Approx once a year all 3 coats need
scraping off every shelf ( I have 5 shelves) and reapplying, its exceptionally difficult to remove all the old batt wash, so no one likes doing it.
However this year I've discovered a new product that comes in liquid form and once applied never needs to be removed, only reapplied!! Now all I have to do it remove the old batt wash so the new batt
wash can adhere to the shelves. I'll work on them this week, needless to say; with an electric tool!
Ladybirds Log
Sunday 9th October 2016
It's so exciting to finally have something to update the public about the new shop in Caldicot. It's just a shame the update is that we're still waiting!
On Thursday I thought I would pop an update on my Fb page and it was received well :) So today I thought I would write in a little more depth about how we got this far.
In May I signed up to the website Startuploans.co.uk- they put me in touch with a company that would help me apply for a start up loan. Craig was assigned to me as my mentor and gave me templates and advise and sent me off to write my business plan. And then re-write my business plan. Then tweak my business plan. Then add a couple more bits to my business plan. And a cash flow forecast needed filling in for 2 years- well I still don't totally understand a cash flow, but I put numbers in boxes and somehow got it done.
Craig then asks "What evidence do you have to show that Caldicot wants this?"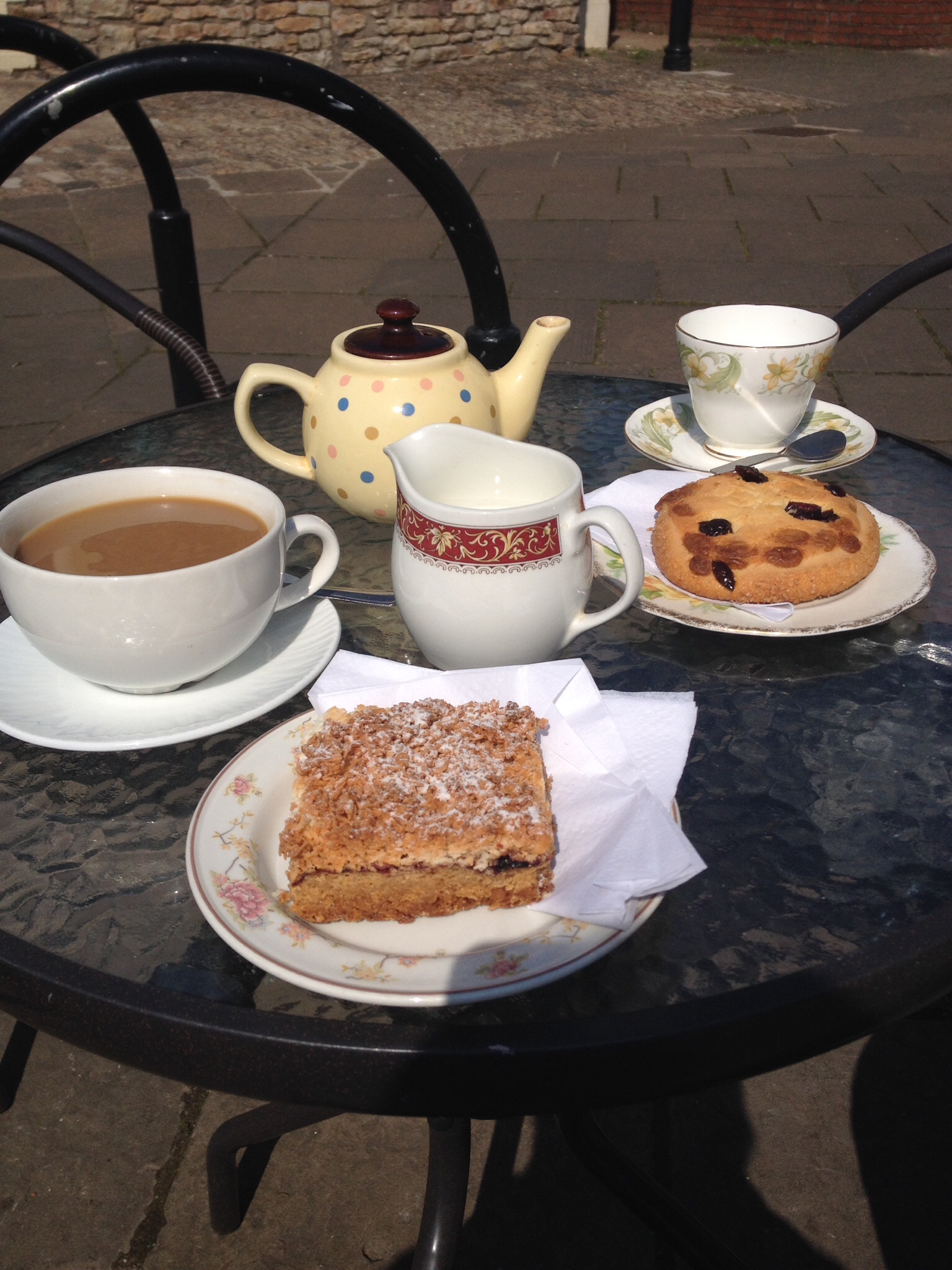 Enjoying drinks and cakes outside Donnies Cafe, Magor
So I created a 10 question survey and with the super powers of Facebook I got 248 completed surveys in just a couple of days. Me and my husband had the hardship of visiting coffee shops and cafes in Chepstow, Caldicot and Magor to see what the competition was like and all this new info was added to my business plan and cash flow forecast.
By now it was the end of June and Craig advised me I had to apply for the Start up loan before my business turned 2 years old at the start of September.
Time was against me and it felt like everything else was against me as well. After filling in the application form for the loan Craig went on holiday and wanted to be back to work before the application went in as the process includes his company reviewing the application and Craig was needed to field any questions they had. Once the application was in some questions did come back and it involved me tweaking the business plan again. I then decided I needed a holiday- Well it had been booked 2 years previous and the timing now couldn't have been worse. I spent the week leading up to the holiday on the phone to Craig or the estate agent , sorting the Tintern shop ready for me to leave it in other peoples very capable hands and serving the Tintern customers as we were now in the first 2 weeks of the school holidays.
When I couldn't think straight anymore we went on holiday, and I did manage to relax and not think about the application for a while.
The day after we returned Craig phoned me and said my application had been accepted and the money would be in my account in the next few days. I said "Thank you". I'm not sure if it was the shock, the jet lag or the thought that now things are going to get very real, very quickly, but Thank you was all I could manage with no enthusiasm at all.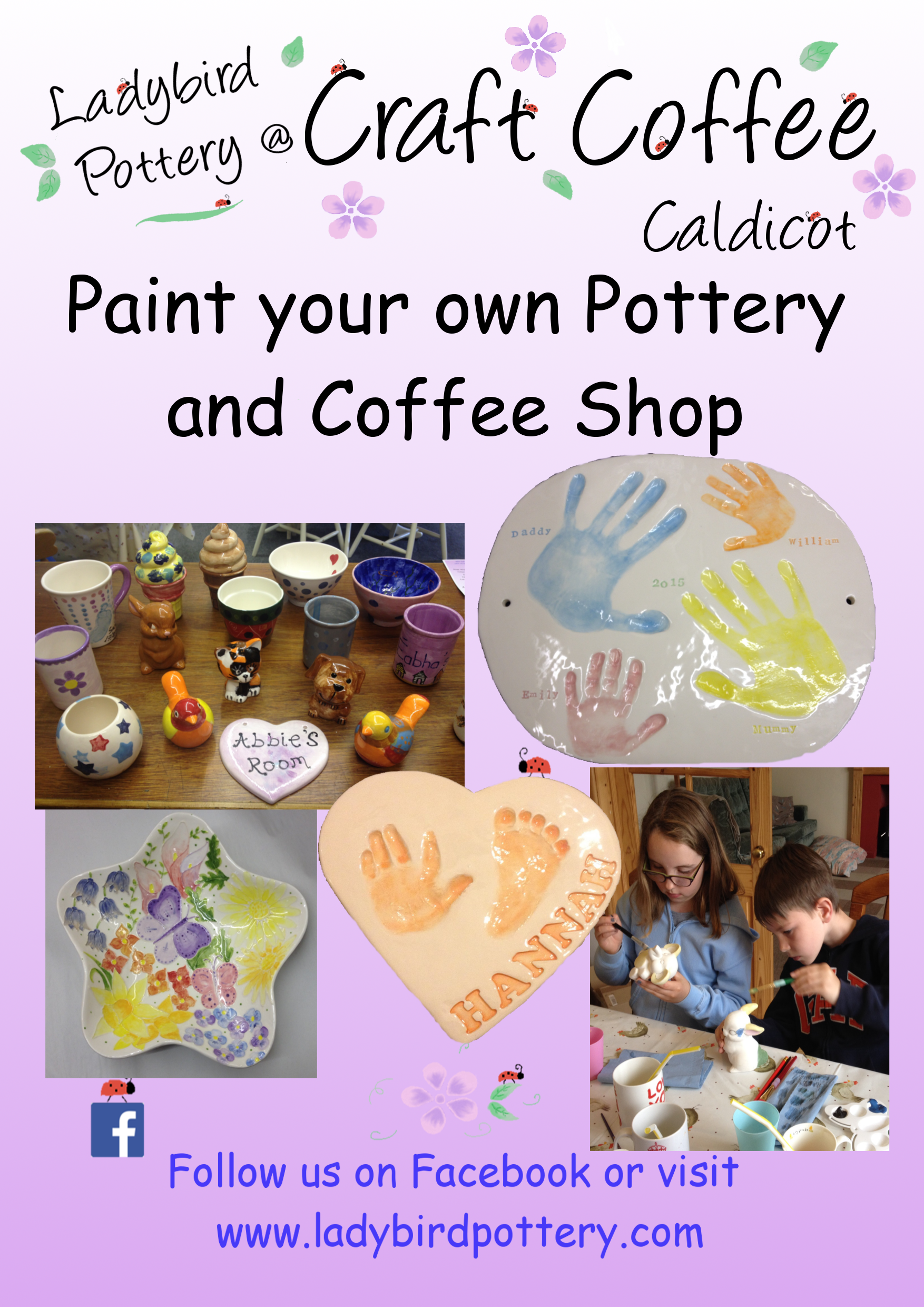 Craft Coffee Leaflet
A couple of weeks later, overflowing with enthusiasm, I made the finally decide on which unit on Caldicot High Street I was going to have and handed my notice in to my well paid care job.
Well that's the story as far. I'm petrified! .....and still waiting to get access to the unit- the landlords lawyers are doing ....something or other (probably nothing to do with my unit!) but it's them I'm waiting for.
I hope you enjoyed this first installment of Ladybird Log- keep watching this space for the most up to date info on our Caldicot and Tintern adventures.