Drinks Menu
To book a table please phone 01291 422322 during opening hours.
We use semi skimmed milk unless you request Coconut milk or Oat milk.
From Tuesday 14th March we will no longer be serving Lunches or Hot snacks. We will still be serving all our usual drinks, Homemade cakes, Tea cakes, biscuits, crisps, flap jacks, scones, ice cream and toast including gluten free toast.
Barista Coffee
Small 7oz/ Medium 12oz/ Large 15oz
Espresso ………………………….….. Single £1.70/ Double £2.30
Americano……………. Small £2.20/ Medium £2.60/ Large £3.10
Cappuccino ………………..Small £2.50/ Medium £2.90/ Large £3.40
Latte ………………….……Small £2.50/ Medium £2.90/ Large £3.40
Mocha …………….……Small £2.80/ Medium £3.10/ Large £3.70
Flat White ………….…..Small £3.30/ Medium £3.60/ Large £4.20
Extra shot of Coffee 60p
Syrup shoot 60p
Decaf + 20p
Coconut milk + 40p/ Oat Milk +40p
Tea
Tea for One …………….£2.20/ Tea for Two £4.20
Herbal Tea for One ……£2.30/ Herbal Tea for Two £4.40
Hot Chocolate
Hot Chocolate ……………...Small £2.50/ Medium £2.90/ Large £3.40
Hot Mint Choc ……………...Small £3.10/ Medium £3.60/ Large £4.00
Orange Hot Chocolate ………Small £3.10/ Medium £3.60/ Large £4.0
Hazelnut Hot Chocolate ……..Small £3.10/ Medium £3.60/ Large £4.0
Caramel Hot Chocolate ……..Small £3.10/ Medium £3.60/ Large £4
Coconut Hot Chocolate ……..Small £3.10/ Medium £3.60/ Large £4
Add Cream & Marshmallows 60p
Non Dairy Hot Drinks
Hot Spiced Apple £2.60
Mulled Fruit Warmer £2.60
Cold Drinks
Milk Shakes
Shmoo milkshake ……………..Small £2.45/ Large £2.95
Small 13oz/ Large 18oz
Add Cream and Sweets for 60p
Flavours available Strawberry, Chocolate, Banana or Vanilla
Monster Milkshake
Made with a large Shmoo milkshake, Choose the flavour of shake, the sweets, syrup and either chocolate or cake to finish of your shake £4.95
Other Cold drinks
Cartoon of Juice (Apple or Orange) 85p
Simply Fruity £1
Glass of Orange Juice £1.70
Glass of Milk £1.85
Cans
Coca Cola Classic £1.95
7up £1.95
Orange Tango £1.95
Coca Cola Sugar Free £1.95
Peach Iced Tea £2.60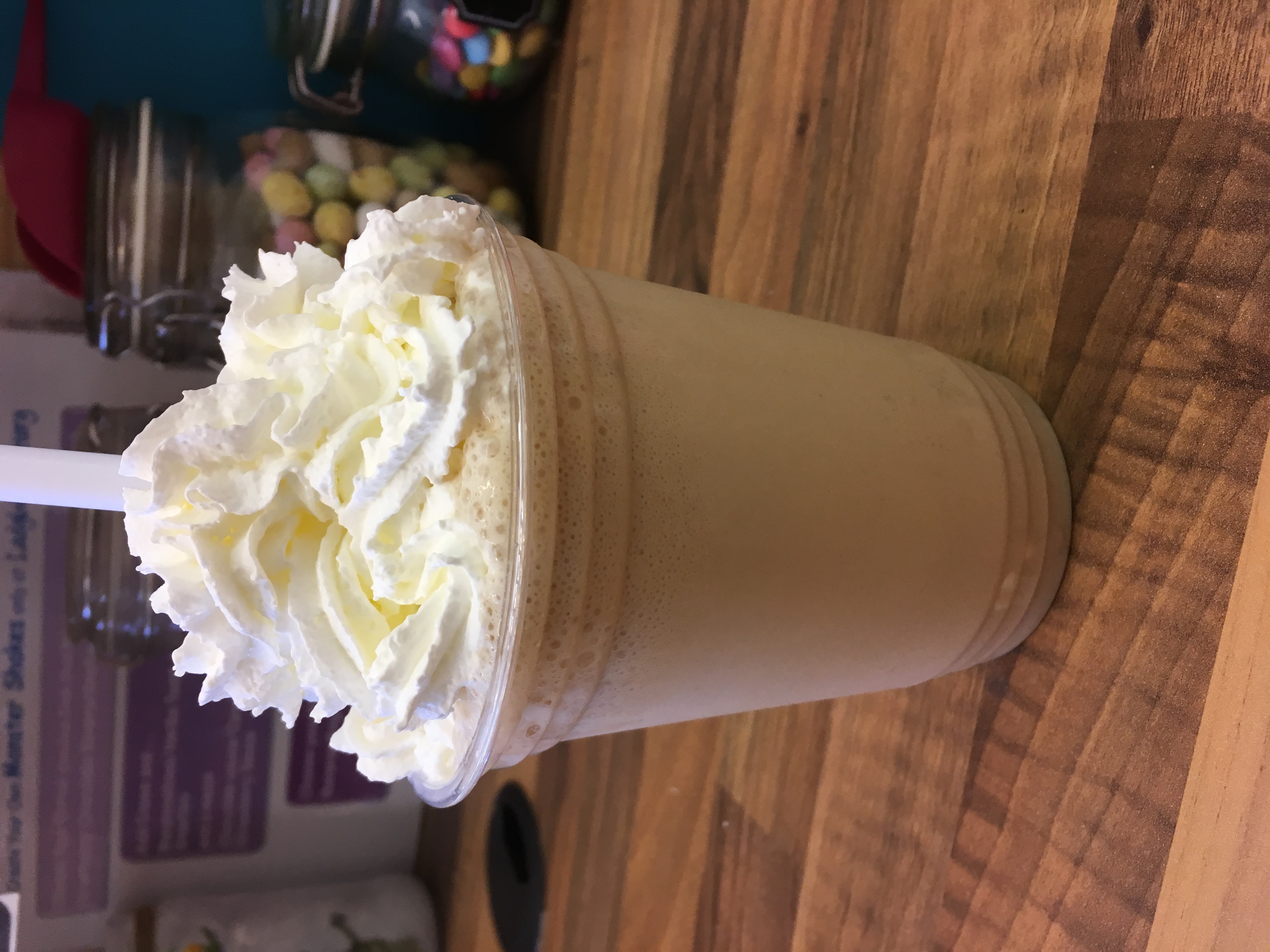 Caffe Frappe with Cream
Caffe Frappes (Iced Coffee)
Small 12oz/ Large 20oz
Caffe Frappe…………….. Small £3/ Large £3.50
Vanilla Caffe Frappe …….Small £3.60/ Large £4.10
Hazelnut Caffe Frappe ….Small £3.60/ Large £4.10
Caramel Caffe Frappe …..Small £3.60/ Large £4.10
Add Cream for 60p